As a widely used building material for many years, if you have an older home or live on a block that has been redeveloped, there is a chance you may have asbestos contaminated soil.
Asbestos contamination is one of the most common reasons for contaminated soil removal in South East Queensland, and while removing asbestos from a building can be difficult enough, removing contaminated soil requires a higher level of care.
Unlike asbestos in a building, where pieces can be removed, in the soil, asbestos is usually in the form of fibrous asbestos, or loose asbestos.
Icon Asbestos Removal can help you with all your contaminated soil removal needs, from identifying contaminated soil, assessing the site for the decontamination process, removing the affected soil and disposing of it correctly.
Identifying Asbestos Contaminated Soil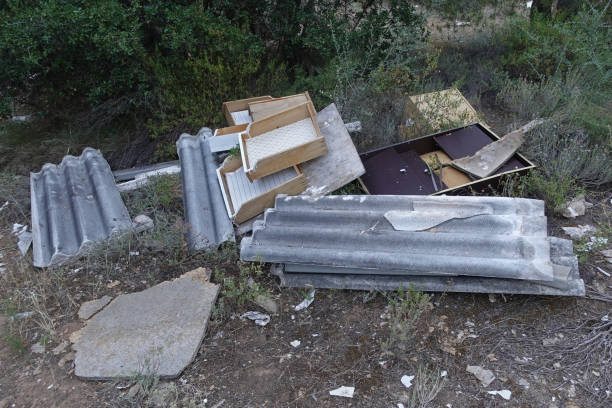 Asbestos materials are known for not migrating too far into soil, usually settling within the topsoil. Asbestos in the garden or soil is usually found as pieces of wall plastering and tiles, however there can often be fibrous materials in the area as well. If you find potential asbestos materials in your garden or soil, contact Icon Asbestos Removal to organise removal of the contaminated soil.
One of our technicians will arrive on your site and take a sample of your soil to test. If the test comes back as asbestos contaminated, we will arrange for removal from site. This removal process includes securing the area, encapsulating the workplace to stop any fibres from blowing into the air, and removing the contaminated materials. Once this has been completed, we will clear the area, and ensure that there is no further asbestos contaminated soil on your property.
Why You Need Contaminated Soil Removal
There are a number of reasons why you would want to remove soil contaminated with asbestos from your home or business, however the number one reason is to stop contamination and potential health risks. The contaminated soil make be seeping into water supply, or it could be simply affecting the quality of your soil. Either way, the soil needs to be removed before you can dig a garden, do a backyard makeover, or start any construction works.
Contaminated soil needs to be removed from the site, as it is the only way to remove the materials. Removal involves experts from Icon Asbestos Removal removing the soil via excavator. The soil is then either treated on site or taken to the appropriate asbestos facility to be disposed of.
Asbestos Decontamination Experts
Icon Asbestos Removal has been providing asbestos testing and removal to sites across Brisbane, Moreton Bay and the Sunshine Coast for a number of years. Trained and experienced in removing asbestos from a range of sites, our team works with residential, commercial and industrial clients, making their site safer.
Working within the strict Queensland government guidelines on asbestos removal, the team at Icon Asbestos Removal not only undertake contaminated soil removal. You can be sure that your site will undergo a clear and sweep to remove any remaining asbestos from the area.
Do You Have Asbestos Contaminated Soil?
Give Icon Asbestos Removal a call today to arrange an inspection and testing at your site.