If your home or commercial building was made in the 1950s, it's highly likely that it has asbestos roofing or asbestos sheets as asbestos was a majorly popular building material at the time.
The removal of asbestos and roof replacements are a job that should only ever be conducted by professionals to keep your family or employees and community safe from exposure. Exposure to asbestos can increase the risk of developing various types of cancer including cancer in the lungs (including the lining), ovaries and larynx so should never be attempted as a D.I.Y project.
If you have asbestos roofing that needs replacement, you've come to the right place. Icon Asbestos Removals are specialists in asbestos roof replacements, with the right qualifications, tools, and knowledge for safe removal. Whether it be a metal roof or tile roof and no matter how many square metres, we have years of experience working on all types and sizes of buildings, from residential to commercial, in the safe removal and disposal of asbestos roofing.
OUR REPLACEMENT PROCESS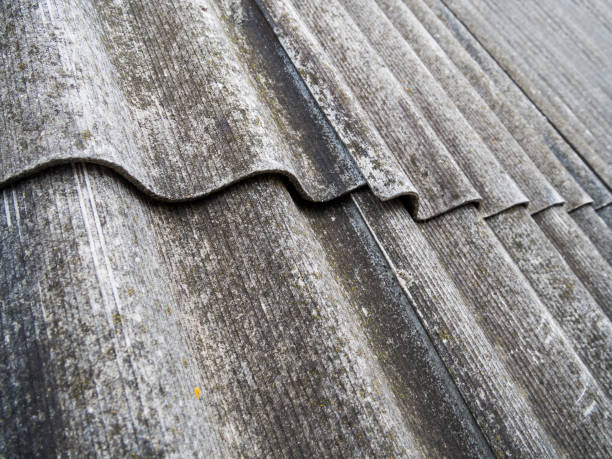 We are licensed asbestos removalists, holding an "A-class" removal licence. This means that we are qualified to remove any type of asbestos, bonded and friable. You can have peace of mind that when you choose Icon Asbestos Removals, we are completing the replacement and removal of your roofing to the highest standards.
Our roof restoration process is thorough, safe, and efficient. Once your roof is removed, we take great care to remove and dispose on the materials quickly and safely. When replacing your roof, we only want to use the highest quality materials to ensure that you're left with a safe and durable living or workspace. That's why we choose to use Colourbond for all our roof replacements. Their products have a 25-year warranty and come in a variety of colours to choose from to match any home or business. Not only will your home or workplace be safe for many years to come, but it will also look amazing, increasing the street appeal and adding value to the property.
Back in the early days of when asbestos was being removed, some people would try to apply PVA glue to every surface in a building during removal to catch fibres floating in the air which would reduce fibre levels in the air when tested. We do NOT use PVA glue as a solution to asbestos and no reputable removalist should as it is completely ineffective and unsafe. PVA glue degrades over time, allowing the asbestos fibres to be released into the air and if anything were to be disturbed in time it would also immediately release the fibres. If a company tries to offer this as a solution, it's massive red flag and they should be reported to the appropriate authorities.
The only safe way to deal with asbestos is to completely remove and replace it. In fact, we're so confident in our methods that we have independent hygiene service conducted on every finished job to test for asbestos fibres.
We have an impeccable safety record so you can trust that we go above and beyond on every job, no matter how big or small, to provide the best possible service. Our friendly and hardworking team is comprised of government accredited contractors, who are qualified to do the job safely and quickly. We're also big on customer service, doing all that we can to provide superior, hassle free service.
Located in Brisbane, we provide our services across a huge area, from Redcliffe to the Sunshine Coast, even providing contracted work as far as Rockhampton.
We're the roofing specialists you can trust to remove asbestos roofing safely and efficiently. Contact the friendly Icon Asbestos Removals team today for a free quote.